Nourish body, mind, and spirit
A retreat offers the perfect opportunity to step aside from your normal routine, slow down, and connect in with yourself, physically, mentally, and spiritually.
In the practice of yoga and meditation the goal is to clarify both body and mind, so that we can experience greater presence and deeper joy in our lives.
My retreats are designed to leave you feeling rejuvenated, relaxed, inspired, and ready to step back into your life with intention!
Open out and ease into your body and create spaciousness of mind through twice daily yoga and meditation practices.
Balance your chakras and experience the benefits of chanting and mantra
Relax deeply through yoga nidra
Allow your creativity to flow through fun art practices and painting
Lie back and allow the vibrations of a sound journey to wash over you and absorb into your being
Relish in delicious healthy food
Enjoy companionship and being time – walking, swimming, reading or just relaxing and melting into your own space, in the beautiful embrace of mother nature that supports your well being.​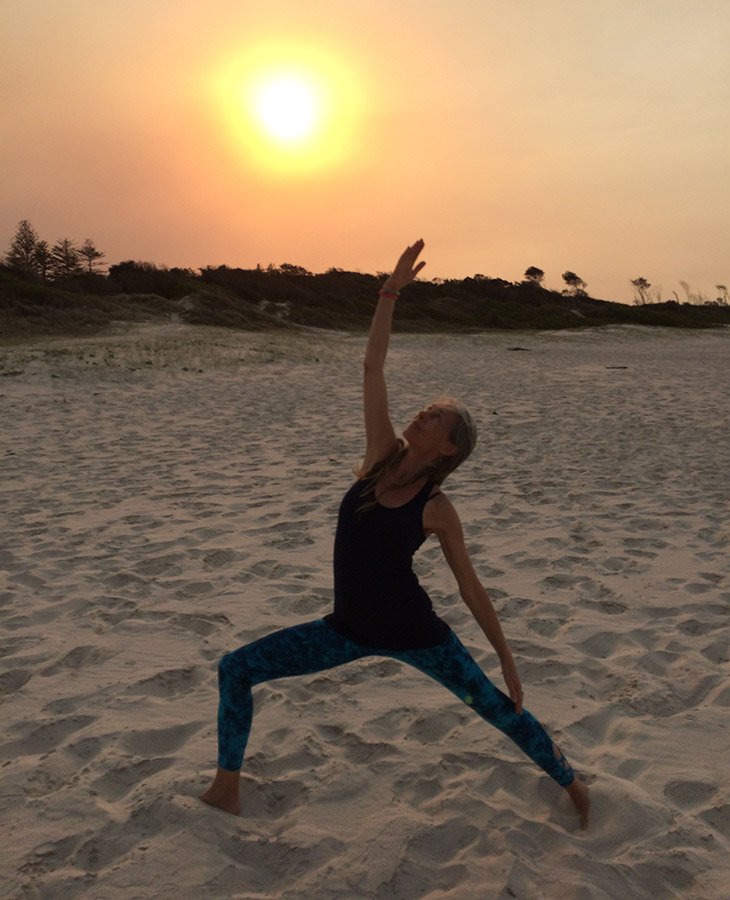 Jane's Yoga Retreat was a beautiful balance between relaxation and activity, she really does embody the sthira and sukha principle, presenting this so effortlessly it took me a while to realise she was guiding us along these lines. She clearly lives by it in her daily life - the ideal balance!
I loved the way she took care to say she was a guide for our Yoga and that we had to respect our own bodies and go where they were able. I can be prone to over effort in my desire to "get there" with the asanas, resulting in cramps or muscle tremors. With her advice, and flowing Yoga, I was able to tap into my own sthira and sukha - no cramps etc, just a pleasant sensation of having worked my body to its ability (and created a lusty appetite!)
Jane is so comfortable within herself it becomes catching! There was a lot of shared hilarity. I don't think I've ever been so relaxed with a bunch of people, most of whom I've never met! Jane got us all to that space.
It's also lovely how she easily shares her esoteric knowledge. Her various meditations were all carefully guided leaving us quiet and reflective afterwards. Once again - healthy balance.
On the final day our closing circle was so special and an embodiment of the whole weekend. Yet still there was laughter alongside genuine spirituality before we wrapped it all up. A fitting finale.
Many thanks to a very special and dedicated guide - Jane.
Jane is a gorgeous human and Yoga Teacher - I just went to the Yoga Retreat at Tinaroo and it was two days of Gentle but deep Yoga - breathing, drawing, Yoga Nidras, Om-ing and sound Journeying, just what I needed. Thank you Jane for your wisdom and experience- I absolutely adore you as a teacher and love doing Yoga with you.
Gentle, cleansing retreats that realign the body and mind. Jane's retreats are very accessible, no matter your level of experience. She is very warm and welcoming.
Jane Bevan's yoga retreats have become a welcome part of my mental health maintenance. Not only do they provide the traditional yoga practices with chanting & meditation but they also incorporate plenty of discussion & debriefing in a supportive & empathic environment. More recently Jane has added some creative art activities which are another vehicle for self expression. The final ingredient is plenty of laughter which combined with the most delicious & innovative cuisine in the most idyllic setting makes for a perfect retreat. Congratulations to Jane for making these experiences so rejuvenating. Always highly recommended!
The yoga retreat was beautiful and magical. Magical location, beautiful yoga teacher, magical food ( seriously magical!) and beautiful group of women to share my experience with. I look forward to my next retreat that I can share with like minded people. Thank you Jane you are a gift. Thank you for sharing some of your knowledge, I look forward to learning more from you in the future.
Once again a beautiful retreat with a beautiful soul. She shows everyone that there is more to yoga than just movement. The mindful artwork, meditation and chanting are wonderful aspects to add to our yoga practice. The welcoming space also leads to some wonderful discussions, in-depth conversations in a safe space with people you have only just met - but it feels completely natural. On top of that the food is amazing, and the newly refurbished accommodation is very relaxing. I eagerly look forward to my next retreat.
I recently attended a weekend yoga retreat co-hosted by Jane. Held amidst a tranquil rainforest setting, it was exactly what I needed to recharge and find my self again. Jane is a wonderful yoga teacher who exudes an aura of kindness, peacefulness and wisdom. Jane's sessions were a combination of poses, movements, chanting and meditation which left me feeling peaceful, relaxed, yet energised. The retreat provided the perfect grounding, healing, teachings and motivation that I needed to get back on my path to better health and happiness. I am grateful for your time and energy you gave to us Jane, and I would thoroughly recommend to everyone! Thank you.
Jane's yoga retreat at Sanctuary Retreat Mission Beach was a wonderful experience. I am not as regular as I would like with my yoga practice and worried how I would handle 4 days of yoga, but Jane's yoga style has a beautiful flow allowing you to determine your own pace. The meditation and education parts of the weekend were very informative and I learnt a lot.
The camaraderie of the group was also an important part of the retreat. I feel like we all went on a journey and came out stronger and more at peace on the other side. On top of that the location was beautiful (I enjoyed my outdoor shower - very refreshing!) and the food was some of the best I've eaten. Thank you Jane for giving me the opportunity to be part of this life-affirming experience. Namaste 😊
What a fantastic weekend Yoga retreat with Jane at the beautiful Sanctuary Lodge in Mission beach! A clever and gentle balance between relaxation, deep body and mind work, good company, amazing vegetarian food and beautiful surroundings. The perfect formula to a much appreciated weekend retreat!
Thank you and I look forward to next years retreat!
I expected to attend Jane's retreat to get some relaxation time and healing for the mind and body. I achieved this and so much more. I met some wonderful people and had many sessions that inspired and crystalized what is important in life. It opened my mind to so many possibilities. Jane provided gentle guidance, understanding plus yoga that suited many different levels. And what amazing food. Thankyou.
This was my first ever yoga retreat and I also do not practice yoga, however I will be now. I chose to do this retreat to help me work through a difficult time in my life, I walked away from this weekend having gained much more. Jane was an excellent teacher whom made us as a group feel comfortable and supported. The Sanctuary was beautiful, the food delectable!
I feel invigorated, truly. Thank you Jane
Jane the retreat was amazing,all the women were all so beautiful,you are amazing and made the retreat a memorable and life changing experience,I cannot put into words how I felt within myself during and afterwards,I enjoyed it so much,I definitely felt rejuvenated.The lodge is the most amazing place we're you have opportunity to get back to basics away from the hussel and bussel of normal everyday life and the food amazing.I will definitely be back,thank you from the bottom of my heart for this experience,your yoga retreat was an amazing experience.
It has been a truly wonderful, inspirational, relaxing few days.
The venue is perfect. The food delicious.
Thank you Jane for organising this amazing weekend. Now back to the real world but feeling ready for it.
This weekend surpassed my expectations. Ten very different ladies came together in a circle and enjoyed life.
I came to learn meditation and come away with a deeper knowledge. Jane did a wonderful job of guiding us on our journey, lots of discussions. stories and laughter.
The hospitality was wonderful. Food nourishing and meals large. Thank you Jane I will definitely do this again.